Thanks to Steve W for submitting the following question:
"I'm thinking of getting a Youview box for my lounge, but I hear that the Humax box doesn't support wi-fi. I don't have a router in the lounge. Can I still use YouView?"
The answer is yes, and there are four options, which we'll explore now:
Connecting YouView to Broadband – The Options
The mission is to connect the Ethernet socket on a YouView box, to an Ethernet socket on your broadband Internet router, as seen here:
Option 1: Wired connection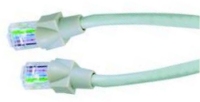 If your router is fairly close to your YouView bo, then connecting a simple CAT5 Ethernet network lead is all you need to do connect a lead between the two Ethernet sockets.
Leads are available in several lengths from Maplin: e CAT5 Ethernet networking lead
If your YouView box isn't that close, you can do a fairly long cable run, or consider installing network points at home. For many, the idea of running cables around the home, drilling holes and lifting carpet doesn't appeal, so we appreciate this isn't the ideal option for many people. Nonetheless, if your YouView box and router are close (or you you can move them closer), then cabling is the quickest, easiest and cheapest of the options listed here.
Option 2: PowerLine / HomePlug
This solution is becoming increasingly popular, and is supplied as standard with similar services (such as BT Vision)
This solution uses a pair of adapters that plug into your home main sockets and use the mains wiring in your house to send computer data. They do the job well, and suit most people as they already have mains sockets close to their router and TV equipment.
Essentially, you need to buy a kit which contains two Powerline Adapters (also known as HomePlugs) and plug them into mains sockets. Then, you plug an Ethernet lead from the Powerline Adapters to the router and Youview box.
Availability: You can buy Powerline Adapter kits from Maplin and Amazon: Powerline at Maplin , Powerline at Amazon
Note 1: Powerline Adapters can cause interference to some radio equipment, notably to amateur radio and shortwave reception. If this is likely to be a problem, Powerline Adapters may not be your best option
Note 2: Powerline Adapters need to connect via the same electricity meter / fusebox, and can be blocked by mains sockets that have surge protectors
Option 3: Wi-fi Adapter
You can buy a Wi-fi adapter that makes devices that have an Ethernet socket work over wi-fi. These are small boxes that have an Ethernet socket and built-in wi-fi and can be used to connect a YouView box using an existing home wi-fi network. They work pretty well and as long as you can get a good wi-fi signal, do the job nicely.
Availability: Netgear Wifi-Fi Adapter at Maplin, or Netgear Wifi-Fi Adapter at Amazon
Option 4: Internet over aerial
This is a little more specialist, but still an option. The EchoBox from Asheridge Communication uses home TV aerial cabling for Internet connectivity. A little like the Powerline adapters mentioned in Option 2, they come as a kit. Instead of using mains wiring, they use TV aerial cabling, so you need a TV aerial point near your router and your YouView box. Get an Echobox
Any comments or questions? Please add a message in the box below…